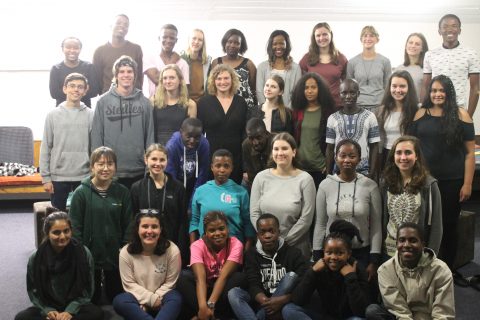 It's been a long and exciting day here at Together for Development, as groups of participants have been trickling on to campus. And the heavens have opened up and are pouring out their welcome! We're having a huge thunder and lightening storm, but the rain has not dampened the mood.
First, the Swazi students arrived, on a bus up from Mbabane, only 15 minutes away. They were followed by two busses from Johannesburg and a few late-night stragglers. Everyone has settled into their rooms and after a few shy hellos, the conversations have been opening up.  And in true UWC fashion, everyone is learning to introduce themselves as: "Hi, my name is ___ and I'm from ___." Name and place, inextricably linked. 
We've been breaking the ice, perhaps most intently with a rousing round of Two Truths and a Lie, where the Swazi students were particularly tickled to learn that Lisa, one of our Swazi coordinators speaks Spanish.
The beautiful thing about any UWC experience is the diversity. We have participants who literally walked 15 minutes up the hill
to get here, and other who traveled for over 30 hours. Along with our coordinators and facilitators, we have representation from:
Angola
Belgium
Brazil
Burkina Faso
Chile
Costa Rica
Finland
Gambia
Germany
Italy
India
Lithuania
Netherlands
New Zealand
Norway
Palestine
Rwanda
South Korea
Switzerland
Swaziland
Tanzania
UK
USA
Zimbabwe
The rain is finally abating and our participants are getting some well-deserved rest. But they will be up at 7:30 tomorrow, for another big day.