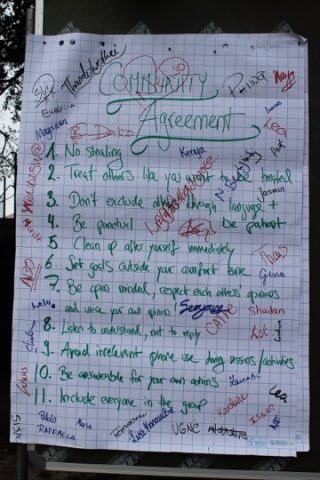 After last night's thunderstorm, we woke up this morning to the delicious smell of damp earth and growing things. We started our day with a session on the history of the UWC movement, which was founded during the Cold War by a German Jew named Kurt Hahn. Hahn was inspired by the efforts of the NATO War College, that brought former enemies combatants together as allies to work together for peace and security. He reasoned, if it could work for hardened military men, it would be so much more effective with young people.

Building on Hahn's enthusiasm and trust in young people, we spent the rest of the morning drafting a community contract. Although we have some non-negotiable ground rules (no drinking or drugs, for example), we want the participants to have a say in determining the culture of their community. Based on values of respect, tolerance, equality, and accountability, they devised a set of rules for themselves.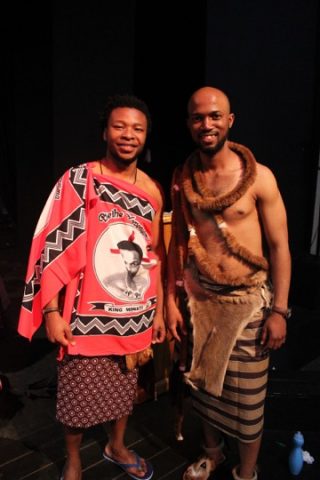 After lunch, where many people were introduced to the magical crunchiness of papadams for the first time, we had perhaps our most meaningful session of the day—dialogue. Dialogue is a form of communication where we encourage participants to put aside cold rationality for a while and speak to each other from the heart about their own stories. The sheer diversity of experiences in staggering, even in these 16 to 20 year olds. Many participants were visibly moved by the stories of our refugee participants, many of whom have suffered inconceivable hardships to get to this point. 
There's nothing like a little perspective to make your own problems seem insignificant; there wasn't a dry eye in the house.
After dinner, we lightened the mood with a rousing introduction to Swaziland. Our Swazi facilitators, dressed in full traditional grab, regaled us with the history and culture of Swaziland. And then, as a special treat, they taught us Swazi dances, music, and games. Everyone was sporting about participation, and we ended the night feeling filled with music and laughter.
Tomorrow is New Year's Eve, and we have a special Swazi barbecue planned to bring in the New Year in true Swazi style!