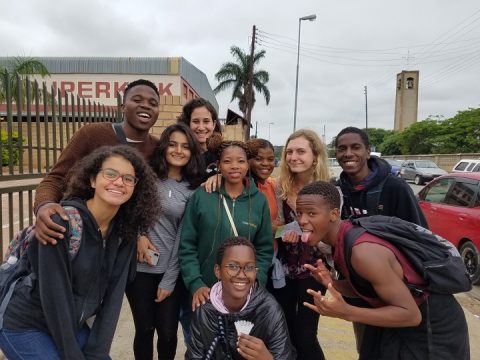 The fog descended overnight, and we awoke to find a heavy curtain covering the campus. We huddled tight into a bunch of kombis and headed off for Manzini. Luckily the city is at a lower altitude than Waterford, so by the time we got to Manzini, it was sunny and breezy. The perfect day to explore the city.
The Manzini town challenge was the highlight of the morning. The participants did a scavenger hunt across the city, buying candy in the mall, shooting hoops at the local court, visiting the local mosque, and finally ending up at Manzini market, where purveyors of various trinkets and souvenirs hawk their wares. The teams named themselves ambitiously—the explorers, the avengers, the dangerous unicorns, and perhaps somewhat less ceremoniously, the Chilies. The Chilies got the most thorough tour of Manzini, since they misinterpreted their third clue to be about courts instead of the police station, and subsequently visited the various levels of courts in Manzini before figuring it out.
We topped off a perfect morning with a picnic lunch and football in the park.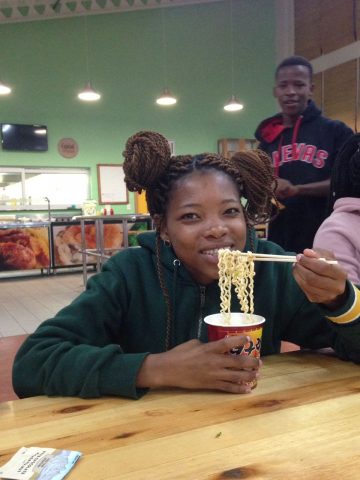 In the afternoon, we jumped into kombis again, to visit various NGOs in Mbabane. The groups visited a range of organizations, from the Rotary Club of Mbabane to a juvenile criminal justice program to various orphanages. Our participants asked probing questions and got a better idea of the realities of development on the ground.
Dinner saw a particularly UWC moment, as our student from South Korea, Seoyoung, introduced the Swazis to the joys of Korean instant noodles. Perhaps even more entertainingly, she gave many of them their first lesson in the use of chopsticks. Hilarity ensued, both from the excitement of trying new flavors, and from trying to get the noodles off the plate and into their mouths.
We ended the night with movie night. Tomorrow we learn about gender and development.