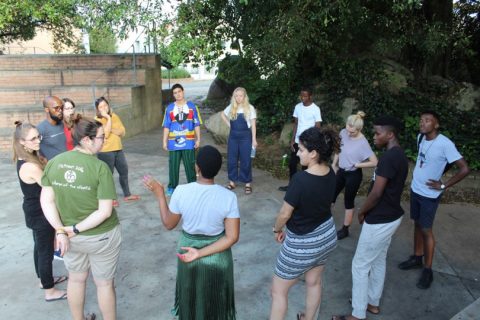 It's whole been a year, but we're finally back on the beautiful hill outside Mbabane, brimming with excitement for this year's edition of Together for Development. Our team is all assembled on campus, putting the finishing touches on the program. We can't wait for the participants to join us tomorrow!

The campus is looking absolutely beautiful. The rain is staying obligingly at bay, but everything smells wonderfully fresh and alive. The flowers are in full bloom, and there's green as far as the eye can see. The whole valley is one long carpet of green, punctuated by the neat sloped roofs of Mbabane.

For the team, being together comes at the end of almost a year of regular Skype calls and flurries of back and forth emails. We've gotten so used to each other digitally, coming face to face for the first time, feels like meeting an old friend again, for the first time. We have a wonderfully diverse group organizing the course, from development MA students to sustainable agriculture experts to youth activists, and even engineers. You can read more about all of us here.

We are all deeply connected to the UWC movement, mostly as alumni, both of the schools and the short courses. In fact, many of us are short course junkies who've attended and facilitated multiple short courses. We all believe very deeply in the power of youth to change the world, and can't wait to meet our participants. Just one day to go!