Today was either everyone's favorite or least favorite day. We went hiking out in Malolotja Nature Reserve, and for some it was the most incredible experience of the course, while for others…well, let's just say it might be a while before they go hiking again. It was a bright, cloudless day, which meant the sun beat down on us as we surveyed the stunning vistas. From mountains to waterfalls to wildlife, we got a real sense of the range of Swaziland's beauty.

We offered 3 hikes–a 4 hour, 6 hour, and 8 hour hike, but they ended up being longer and steeper than most people were expecting. Despite the toughness, we were rewarded with the most beautiful scenery, and even the occasional antelope and zebra. We lunched at the Malolotja waterfalls, a stunning group of falls set against the backdrop of lush, rolling hills. We huddled under one tree for shade, snacking on sandwiches and fruit.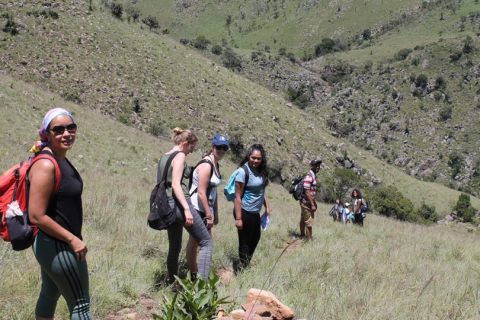 Some groups then hiked into the valley to swim in the pools at the base of the falls, while the others headed towards the picnic area to set up the braai for dinner. We ended the day with a fantastic barbecue feast, while we rested our weary feet.

The hike was tough, but in the end, it was an invaluable team-building experience. We had to pull together and keep each other motivated. Participants carried backpacks for each other, shared water, and urged each other on. We came back to campus more united, with an unbelievable shared experience.